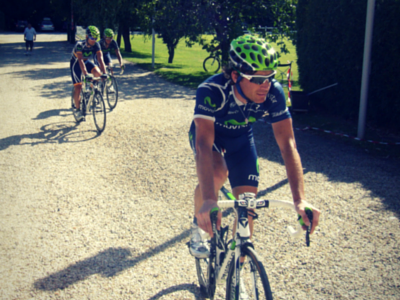 Bike Roads in Pinerolo and Surroundings
7 Bike Roads Suitable for Everyone
The Tour of Italy makes you fell a biker? Here we propose you Seven Touristic Bike Roads in Pinerolo and its surroundings, with differents difficulty levels: from the easy bike ride suitable for the whole family, until more hard roads with a great difference in height, that are more suitable for trained bikers.
Here are some of the touristic bike roads that we chose for you.
Pinerolo – Bobbio Pellice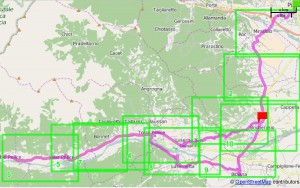 Lenght: 50 km Circa
Difficulty: MC
Start point is III Alpini Square in Pinerolo, taking the road to Bricherasio and going through Miradolo and San Secondo. Once arrived in Bricherasio, turn in Via Molarosso and take a short hill heading to Luserna; from Luserna go straight till Bobbio Pellice. From there, you can go back through the same roads as the previous way until Luserna. Another little hill will bring you to Lusernetta, to end the road in a sloap through Bibiana and Bricherasio
It is an evocative way, that will make you discover the beauties of Val Pellice.
Pinerolo – Pinasca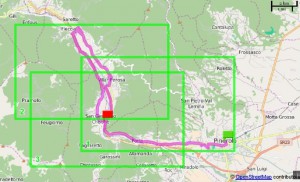 Lenght: 35 km circa
Difficulty: TC
Start point is Vittorio Veneto Square, in Pinerolo, from where you take Stradale Fenestrelle. At Cottolengo Hospital turn left and go through Chisone river. Once in Miradolo, turn right in Via Colombini, heading to Località Camussi. Follow the road until San Germano Chisone and then follow Pinasca direction through the cycle way. On the way back you will ride on the Giro d'Italia 2016 ending roads, through Fenestrelle and Villar Perosa.
Osasco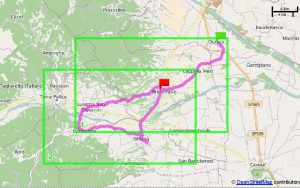 Lenght: 30 km circa
Difficulty: MC
From Osasco square go in Bricherasio through via Garzigliana and frazione Cappella Merli. Once in Bricherasio take the Via Molarosso short hill, later going down on the street heading in Luserna. Through the bridge on Pellice River take the hill until Luserna Alta on a quiet road heading to Bibiana. Passed Bibiana centre, and going through Cavour, you cross the cycle way to travel on the way back. To return to the starting point, take via Bussorondo and then Via Saluzzo.
Frossasco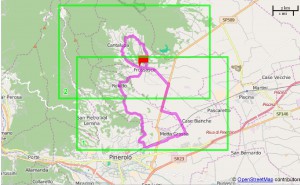 Lenght: 25 hm circa
Difficulty: MC
You start from Frossasco's Church, towards Roletto and Pinerolo. The street have some rise and fall near località Roncaglia. Once arrived in Pinerolo suburban area, take the old street of Piscina and turn left direction Frossasco. You go through Via Bivio, turn right and go on the hill heading to Via San Giusto. On the way back, on a slope, pass through Via Rossi.
Cumiana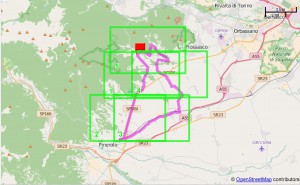 Lenght: 25 km circa
Difficulty: TC
You start from the central square of Cumiana and going through the main road until località Bivio, arriving at Piscina old road until the centre of the city. Once arrived in Piscina, go towards Allivellatori, passing through Via San Giovanni Bosco, Strada Castello and sp 193 where you can found some hills and dopes. Arrived at località Trucco Levrino, you can take sp 193 again to come back in the square of Cumiana.
DOWNLOAD THE ROAD MAP 
Pinerolo – Moretta through Via delle Risorgive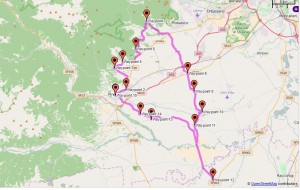 Lenght: 85 km circa
Difficulty: TC
This road starts in the central square of Pinerolo, going on Via Martiri del XXI. After Roletto's crossroad, you enter in a countryside  road that leads you to Frossasco's fork. You arrive in località Tavernette and then go on until Allivellatori. Go on towards Airasca, where starts Via delle Risorgive, a quiet and safe bike road. Arrived in Moretta you can go back until Vigone and to return to the start point you can go through the countryside road of Macello and Baudenasca.
Montoso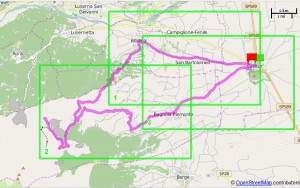 Lenght: 40 km circa
Difficulty: TC
Starting from Cavour towards Bibiana, with a short slight slope. Once you have reached Bibiana centre go throuh the sport camps to access a long and hard hill that leads you to Montoso. Once you reach Montoso, you can choose between two ways: take a less hard hill to Rucas or go on a slope until Bagnolo Piemonte. Once arrived at the end of the slope, you can take the road to Cavour to come back at the start point.
Return to Home Page