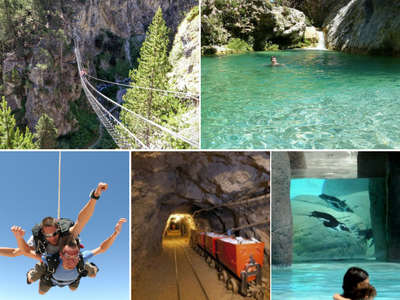 The 5 most amazing things to do in Pinerolo area
Pinerolo is an area rich in cultural, historical and artistic attractions, natural beauty and opportunities to practice all kinds of sports. But between the sunny plains, the green valleys and the mountains, there are many surprises that everyone does not know: so many adventures await the most eager tourists of a surprising holiday!
If you are curioused and you are thinking of a weekend of adventure and emotions, then you will definitely find the activity that works for you among these five things to do in Pinerolo and the surrounding area.
Jump with the parachute
A few miles from Pinerolo there is the Sky Dream Center, a perfect place to experience the adrenaline of a tandem launch with parachute. You will launch from a plane at 4,000-meter-high firmly attached to a well-trained instructor that will assist you in the free fall of 200 km/h and then open the parachute at the right time by having fun with spirals and spirals until you return feet to the ground. Emotions are guaranteed!
Exploring the tunnels of a talc mine
In the Germanasca Valley there is a special eco-museum dedicated to visiting the richest talcum mine in Europe. Scopriminiera extends into the subsoil for 3.5 km and will allow you to know the Paola and Gianna mines, as well as to make you discover how miners' life was here. Before on board of the miners' train and then on foot you will be wrapped in a darkness interrupted only by the white talcum whip.
Live nature and animals at Zoom
Explore Savannah, visit Madagascar, go hiking in Asia, swim with hippos, walk with lemurs: all this is possible just outside the city, in the largest Piedmont biopark, Zoom Turin. You will spend a day surrounded by animals without cages and nets but free to live in their natural habitats recreated here, learn all about them through biologists and relax on a sandy beach in the company of penguins.
Cross a Tibetan bridge
A beautiful thrill on a Tibetan bridge suspended 40 meters high in Cesana (one hour from Pinerolo). You can walk on the suggestive Gorge of St. Gervasus in a path of crossbows and ropes that will take you to Claviere. The gorge you find is truly fascinating with its uncontaminated nature, breathtaking views, shrubs, the river Dora and the silence of a magical and adventurous location.
Dive into a creek
In Bobbio Pellice, the Guichard stream forms a series of "tumpi": fresh water pools perfect for bathing and surrounded by rocks from which you can dive… real natural pools! Clear water mirrors to find relief from the heat, without going too far away from our hotel but enjoying an amazing natural beauty.